About Us
You may have seen us out and about in our pink and purple strip. We've certainly been around for a while. Our story began in early 1985, when four friends started an informal running group based in Wootton village, on the outskirts of Northampton. Since then, we've grown a bit, with 7 pace-based groups and more than 100 of us run training every Thursday evening around Wootton, Grange Park, East and West Hunsbury, or group cycling around the county on Saturday morning.
Our triathlon section, Wootton Tri, is growing, with more than 100 triathlon, duathlon and swim race entries each year. Many of us have progressed from having a go at a novice sprint triathlon to ultra-distance challenges. In the last 10 years or so, 64 of us have completed at least one full Ironman distance race.
Although we like to challenge ourselves, we're a friendly bunch and there's nothing like getting together socially, whether it's for coffee and cake after a run or cycle, or one of our annual social get-togethers, including curry run and Christmas party. Many of us have become firm friends through the club.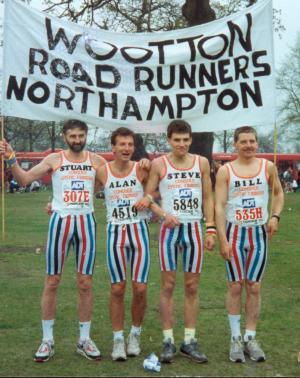 Join Us
There's nothing like a good run to lift the spirits, but it can be so easy to skip today's run, swim or gym session, particularly during the cold and wet winter months. Think of all those excuses you've used over the years not to exercise, then think about how it feels when you miss a training session. Not good!
If you're new to running, looking to improve, or an experienced athlete, joining a club like ours and training with others will keep you motivated and on track. Our members support, encourage and inspire each other. You'll also have the support of our coaches and there's always someone who can help you with a training plan, whether you're looking to improve your Park Run times, or progress to longer distance running, triathlon and ultras.
If you are a runner looking for competition, you'll certainly find that in the club. We are England Athletics affiliated and all members are UK Athletics registered. We are a member of Northamptonshire Athletics Association and the club takes a lead in local races and events. Whether you run 5K in under 20 or 35 minutes, you won't be short of competition and encouragement if you race for the club.